A prayer, a thief and a screaming male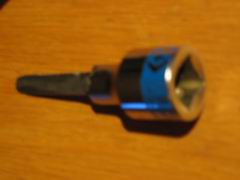 On Wednesday evenings we pray as a community. Tonight we had a rather interesting prayer experience. Half an hour into our praying and intercession a few of us became aware of a peculiar sound outside the house, the 'THUD' 'THUD' of a hammer connecting something with force. I ran out with Jacques and saw our car forty meters down the road; three men were 'working' it. In other words they were in the process of stealing it. One of them had a computer in his hands, it's a small electronic device used to deactivate all alarms and immobilizers.
I responded with the only masculine response I could think of … Yell all of hell on them. I let loose and they scattered, like sheep without a shepherd. Two of them immediately jumped into the getaway car and the last man, die hard that he was – still tried to steal our car! After some persisted shouting and the house alarm being activated he jumped into the car.
We were fortunate, that's what the guy who towed our car told me. Last week a man also yelled at some thieves and he was shot! I guess the best way to handle the situation is to just shut up and let them take your vehicle…
Our vehicle is totally screwed. Literally. They jammed the screwdriver-like device in the picture into our ignition (that was the hammering sound) and ripped out a lot of wiring and broke the car's door handle.
We thank God that we're OK and we're reminded that we can't put our security in material things…