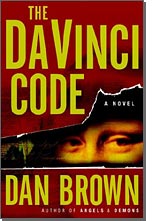 Leonardo Da Vinci and Jesus
I love reading, therefore people ask me what is the best book you read in the last year? A few months ago a Brazilian dude gave his wife a book. His wife told me to read it – I did and it propelled me into a searching. In the midst of a lot of postmodern talk going on, the book I read was a wonderful introduction into what we will experience in the religious smorgasbord of our time.
This book warrants a reading from Christ-followers who love God and have a desire to infect the culture around them. So here's my idea. I'm starting a book study. The book we will study is The Da Vinci Code by Dan Brown. We will read the book and then start an on-line discussion. Beware this book will mess with your mind. Please let me know by Wednesday if you want to be part of this study. (Use the Shout Out function). Peace out.