Over the weekend we (my dad and I) played in a golf tournament, it was great fun. We ended in joint sixth place. Golf is a great way for me and him to bond. My dad has a lot of golf books, in fact I sometimes think he finds more pleasure in reading and trying new 'methods' than just playing. His latest book has an illustration in the beginning chapter which starts with a cesspool at the bottom which the author terms 'golfing hell'. Golfing hell, according to him is all the other golf instructions you've ever heard of. The illustration then continues with all of his advice which, if adhered too, will get you in golfing heaven. A little arrogant don't you think?
Last week was spent reading a manual on church planting. We read a book by Dynamic Church Planting International. It's good for us to get a general idée of what we are getting ourselves into. Last night I preached on Jesus as Living Water. It was a fun service. Our liturgy consisted of eating salt and having a time of meditation and confession, we had the opportunity to think of all the counterproductive ways in which we satisfy our thirst. The liturgy also included drinking fresh 'living water' – and thanking God for it.
We challenged each other to practice the spiritual discipline of the Faucet. That is every time we use the faucet we will do two things. Firstly we will thank God for being Living Water and secondly we will ask God to use us as a channel of water.
I think this discipline can also include a third dimension. Let me explain: I read the following statistic the other day: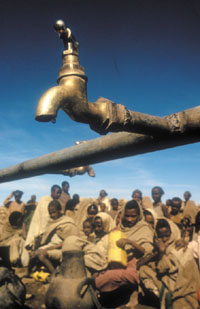 "More people die each year from unsafe drinking water than from all forms of violence, including war. More than a billion people—one in every five on earth—do not have access to safe drinking water."
Every time we open a faucet we can pray for the billion people who are not as fortunate as we are. We can also pray and ask God how we can be part of helping the 'poor' in our area.
Today was spent hanging with our friend Schalk and buying some supplies for his house in Mozambique. We learned a lot of interesting things like how to lay a floor using self leveling screed. Schalk will use this technique in the room where they're training people in language and computer skills.