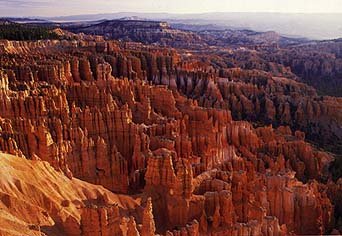 St. George is a beautiful place. Surrounded by red cliffs and breathtaking canyons. Yesterday we went to Bryce Canyon. We would be Lollie (my wife), Colin and Sullette (my parents visiting from South Africa) and Francois (my brother also from SA). Our favorite line for our tour so far is : You will see beautiful things that'll make your eyes pop out of your head, it becomes funny if you repeat it as a family about 900 times.
At Bryce we hiked into the canyon and I was tremendously proud of my dad, he had bypass surgery 7 months ago and he trucked up the incline out of the canyon – a stud. On top of that my mom and dad have a huge problem with heights and Francois gave them a hard time by hiking on purpose as close as possible to the edge.
St. George sure has a lot of mormons! Earlier today my dad and I played some golf on the 9 hole municipal course, our playing partners – a 85 and 84 year old. We exchanged usual pleasantries and then he asked me the question:
What do you do for a living?
I'm a pastor.
Protestant?
Yes.
Are you one of those fire and brimstone types?
No (laughing), [my dad assures him that I'm a very nice guy]
We are mormons, do you know what that is?
Yes.
In the end it doesn't really matter, we all serve the same God.
I gave no response to that last question. It really bothered me later in the day. Nice, I was very nice in that situation – not engaging in a theological debate. At that moment I decided not to confront that statement because,
a. I was not in the mood to challenge a 85 year old on the golf course.
b. I knew my dad (who dislikes religion) would not appreciate an apologetics session on the golf course.
c. I really did not realize the severity of the statement till 3 hours after it was made.
Some may say I was just sensitive, others will shout with the crisp echo we made in Bryce canyon, the echo of COMPROMISER! It is good for me to be out of Colorado Springs this week – I think I'm really sheltered there – from real people with questions and opinions. I did play a great round of golf, not that it matters.